michelle healingroots
As we commemorated 50 years of the island's (semi) independence from British rule earlier in the year, Jamaica fever sweeped across the UK.
With a large percent of the Jamaican population residing in and around London, a whole host of events took place to mark the occasion. As a woman of Jamaican parentage this was a welcome celebration of all things Jamaica to those who, so far had been ignorant of the small island's influence on the UK. Jamaica's most well known export Bob Marley spent many a time in the UK and the day after Jamaica's Olympic 123 victory I caught up with his eldest daughter Cedella, about Jamaica, family and fashion.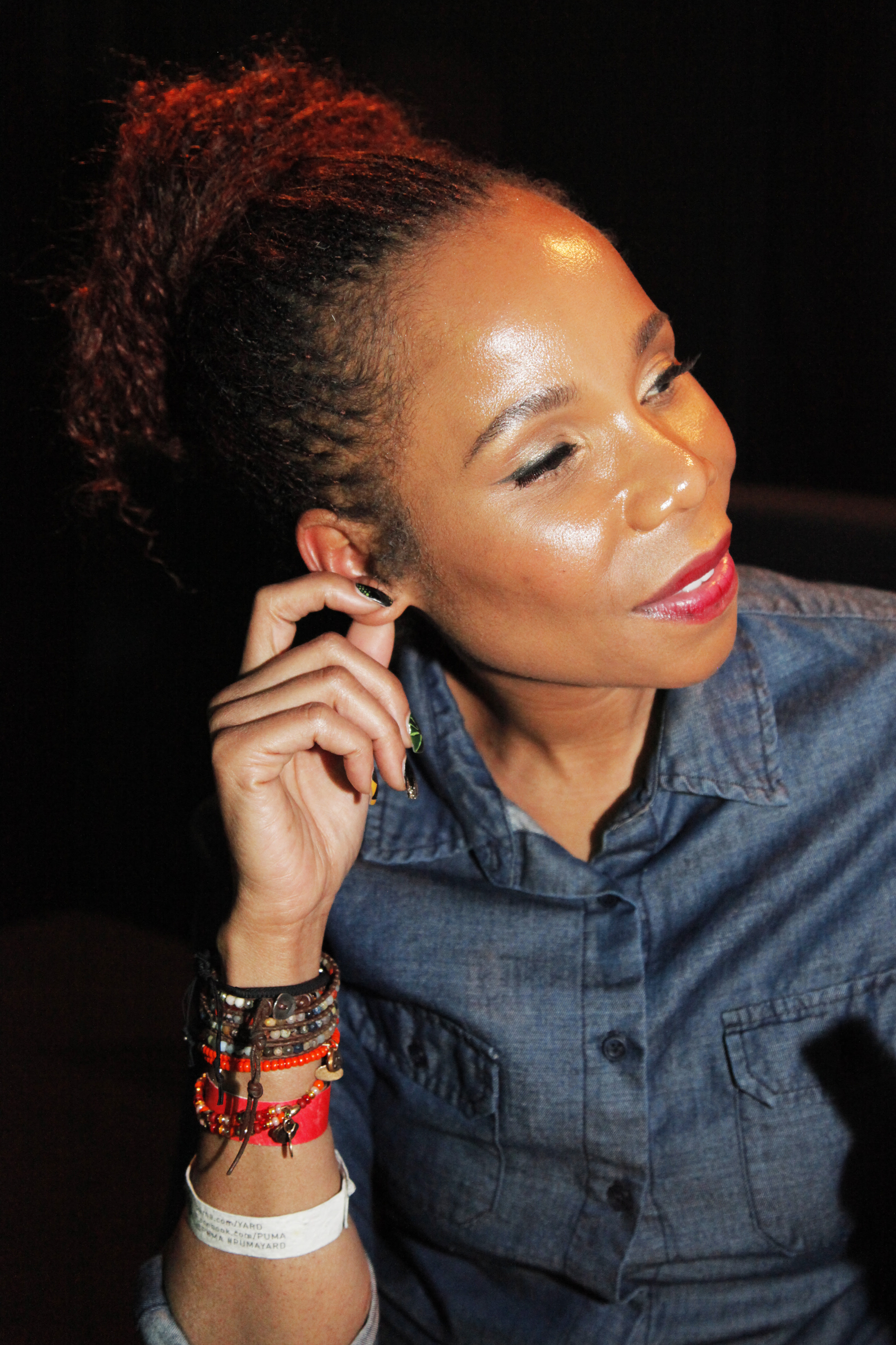 I asked Cedella what it was like being in London during Jamaica's 50th anniversary and with the success of Jamaica's Olympic team.
"I was in the stadium at the time and words can't really describe it! I just give thanks to God for letting us experience being in London at the same time as the independence. Two years ago if someone asked me, "Where are you spending Jamaican independence?" I'd have said I don't know! To be here with my family is a blessing. The British team did so good too; a lot of the athletes have Jamaican blood in them!
Daddy was always a sports man. We would get up at 5 o'clock in the morning and go jogging. I did track at school and my brothers did football so we've always been into in sports."
Coming from a musical family and being a part of the group the Melody Makers with sister Sharon and brothers Ziggy and Stephen, I asked Cedella if she was encouraged to do music from a young age.
"My dad wanted me to go to school and be a doctor or a lawyer – the total opposite to being a musician. So I was like ok, no problem. Then things happened as they happened and I can take on any lawyer but this was all self taught. When you're under pressure and you have to protect your family you really get into it seriously because you know how much it means.
We grew up very humble. There's a misconception that we grew up with a platinum spoon in our mouth but we've had to really fight for everything that we now have, including even the rights to our fathers name. When you have to fight for something you really love and believe in and you're against the big dogs, that can humble you really quick. My mom did an amazing job in making sure we had a proper family structure. There was a time where all my brothers and sisters lived in the same house  - we're really a close knit family and we keep each other grounded."

Cedella is much more than Bob Marley's eldest daughter. She is the CEO of Tuff Gong International Records, a mother of three children, an author and fashion designer. With so many projects and responsibilities I asked her how she keeps it all together.

"My kids are with me when I travel, they come everywhere I go – even if it means me taking them out of school I always bring a tutor along. They're like my best assistants! They really are. They wake up in the morning and they're like "mom, what do you have to do today? Do you have an interview, do you have to do TV?" Nothing is really managed, it wouldn't be real if I said, oh, everything is order; nothing is in order! I just kind of go with the flow.

My 17 year old loves business, my 15 year old loves music and my 9 year just looks at me like "What do you do Mom?" (laughs) He loves to manage me though, sometimes he gives me the eye, like why are you doing that? And i'm like, "Why are you asking me what am I doing when you see what I'm doing?" and I'm giving him the same look, so then we get into a stare off!" (laughs)
Amongst many fashion ventures including her line Catch A Fire, one of Cedella's most notable was a recent collaboration with sports line Puma for the Jamaica Olympic team's track and field kit. I asked how fashion entered her life.
"My great aunt was a seamstress and used to make outfits for my Mom's group, (Bob's wife Rita) the Soulettes and always make a dress for me and Sharon, and a shirt for Ziggy. I used to want this white crochet belt and ask if I could get 10 dollars to buy this belt and she said no, learn to learn how to crochet. So although it was out of necessity I was always interested in fashion. It's important to express myself creatively.
My dad would say, 'Never let them change you!' It goes both ways."
All photo credits must be given to Rakiya S - @RakiyaS [http://photostalker.tumblr.com]