michelle healingroots
[documentary review] Mumia Abu-Jamal: In Prison My Whole Life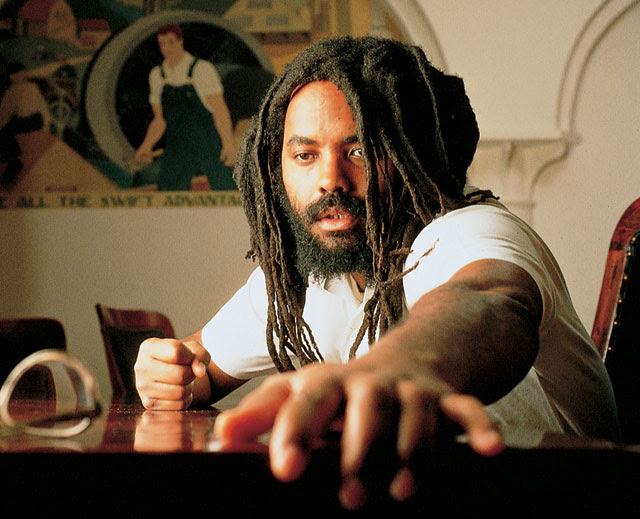 As part of the BFI Southbank's African Odyssey series a documentary entitled In Prison My Whole Life was screened told by 25 year William Francome, who was born the day journalist and former Black panther member Mumia Abu Jamal was sentenced to death after being convicted of the murder of a policeman on December 9, 1981.
The documentary, although made in 2008 before the recent overturning of Mumia's death penalty charge, explores the many layers of the story, in its context at a time of racial and political tension in '80s America; namely Philadelphia.
Building on revelations found in a previous documentary A Case for Reasonable Doubt William paints an uncomfortable picture of the American justice system at a pivotal point in time in history through Mumia's complex and detailed case, with various additional contributors such as Angela Davis, Dead Prez, Noam Chomsky and Mos Def.
Wlliam firstly establishes his personal connection to Mumia's case; that being his birthday signally another year spent by Mumia on death row, and the politics of the 1980's being brought into his consciousness as a child enforced by his mothers interest in activism.
Commencing the investigation he explores the current stance of documented police brutality, drawing on investigative journalist and host of Democracy Now! Amy Goodman who discusses the use of force in government custody in more recent history in the States and abroad (referencing Abu Ghraib and Guantanamo Bay) and what has ultimately laid down the foundations for the acceptance of that violence, being police violence namely towards non-Whites throughout history.
To analyse and breakdown both the racial and political specifics of the case, Willam aims to tackle the key elements of a case that has received worldwide attention and the three main areas of why legally it deserves a retrial – the disproportionate racial make up of the jury assigned to try the case, the bias and perverted evidence used by the prosecution and the fact the presiding judge was overheard making a racist remark with eyewitnesses and first-hand accounts.
As well as William uncovering the key areas of this case of blatant injustice, as shown by the clear evidence and detail he constantly reinforces the context of the situation and the prevailing social and political movement taking place in '80s America; that being the rise of the Black Panther movement and the attempts to oppress it by theFraternal Order of Police (FOP) as well as the cultivation of the Philly police's racist culture and oppressive law enforcements.
The most harrowing part, although being external to Mumia's individual story, is the nauseating footage of the bombing on Osage Avenue of May 13th 1985, where the black liberation group MOVE were wiped out by the Philadelphia police. This moving footage is not only was an example of the extreme levels taken to repress the spreading of political dissent of leftist movements, but also the exposure to its link to Mumia's case.

Kenneth Freeman, the person widely reported to be the real murderer of the policeman (he was there at the time of the incident and identified by an eyewitness fleeing the scene amongst other details not taken into consideration during Mumia's trial), was found dead in a lot naked, handcuffed, bound, and gagged, and allegedly drugged on the same day of the bombing, which subsequently resulted in it receiving little or no media attention.

From recalling footage from eyewitnesse,s who later admitted to have been manipulated by the police to give false evidence, analysing the details of ballistic evidence which showed the fallacy of the story told by the prosecution in court, sitting down with Mumia's brother to speak about the case for the first time, to seeing never before seen photos of the crime scene which further demonstrated the poor handling of the case from its very start, no stone is unturned to investigate the complexities in this emotive 99 minute documentary.

In Prison My Whole Life left me angry, upset, moved and somewhat inspired. Although William is hardly an authoritative voice on this subject, that's what makes the watch more authentic as his connection to Mumia's case is clearly a personal and emotional one, seeing the case not only of racial injustice (although this is a factor not to be ignored) but as importantly a case of political injustice.

This documentary uses a variety of sources, covering the wide spectrum of this devastating and shocking case. Although you could argue it's seen to be on the side of the oppressed, the fact the FOP and the Philly police declined to take part in this project is telling in itself. In a country that prides itself on reform and revolution, it's also a chilling reminder of the unashamed use of the death penalty on cases that remain to have elements of reasonable doubt [unquestionably like the case of Troy Davis].

In an eye-opening, moving documentary of an intelligent and humble man who has been coined as 'the voice of the voiceless', this is a reminder of racism in America, its continually questionable justice system increasingly being used for political means and the history of Philly.

Originally written for SoulCulture